Pella's key objectives
Our key business objectives are:
To generate quality resource projects
To establish and develop investment opportunities across the continent
To create significant value for all stakeholders and be a partner for projects across Africa
Pella has a generative business model whereby it seeks out and evaluates opportunities, creates and invests in individual entities and management teams and then actively supports them going forward.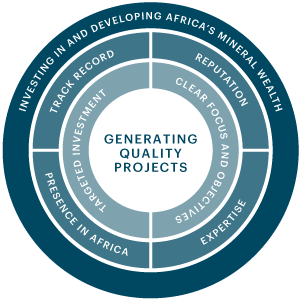 Investment strategy
Pella has a diverse investment strategy that looks at prospective assets across the value chain. As its history is embedded in natural resources, the Group has an established network of contacts and a deep knowledge of working in Africa. As a result of the Group's track record of success to date, Pella has regular access to a pipeline of potential projects and deal flow which it continually appraises.
Pella has a strong corporate philosophy and social responsibility that is adopted across the Group companies and its affiliates.